By Ashley Delamater
Employers have long complained about a "skills gap," noting that job applicants often lack the right combination of soft, professional skills and technical knowledge. This need has become more urgent for recent graduates, as employer expectations for early-career employees are higher than ever while on-the-job training opportunities have decreased. A global research study by Deloitte found that nearly half of all Millennial workers hold a leadership position, while Accenture found that only 21% of American employees received any formal training in a five-year period.
Why the 'Soft Skills' Problem Is Greater Today
This gap in professional and technical skills development places a greater burden on colleges and universities to graduate highly prepared and developed individuals. Liberal arts students are in particular need of help because while they hold the soft skills crucial to advancing into managerial positions, their education is often so broad that they lack the specialized knowledge and skill sets critical to gaining entry-level positions.
To prepare graduates for this reality, Mount Holyoke College and New York University (NYU) invested in practical concentrations and immersive experiences to help their graduates succeed in their careers from day one.
Download the full white paper for more strategies
1. Professional track programs
Through its specialized career-track program, Nexus, Mount Holyoke enables students to major in a liberal arts discipline while adding a set of practical, technical skills attuned to different industries. Tracks focus on in-demand fields like engineering, global business, and non-profit management. Nexus is able to align with emerging areas of employment because its flexible curriculum components speed time to launch and its central ownership model makes it easier to sunset outdated tracks.
The program's curriculum is made up of a combination of fixed courses common to every track and three flexible courses that are tailored to each track. Fixed course materials build professional skills through internship preparation and reflection, as well as a Curriculum to Career Course that helps students draw connections between the curriculum and their intended careers. Students must also complete a practical experience related to their track.
2. Partnership with school of professional studies
Rather than build new professional track programs, NYU's College of Arts and Sciences leveraged existing opportunities through their School of Professional Studies. This partnership allows them to offer a greater number and variety of certificate options to students. And since the College of Arts and Sciences pays the School of Professional Studies for the programming, students do not incur any additional costs.
This program, called Professional Edge, provides students with practical, specialized skills that allow them to launch into particular careers: for example, a German major can earn a certificate in translation or an art history major can earn a certificate in appraisal.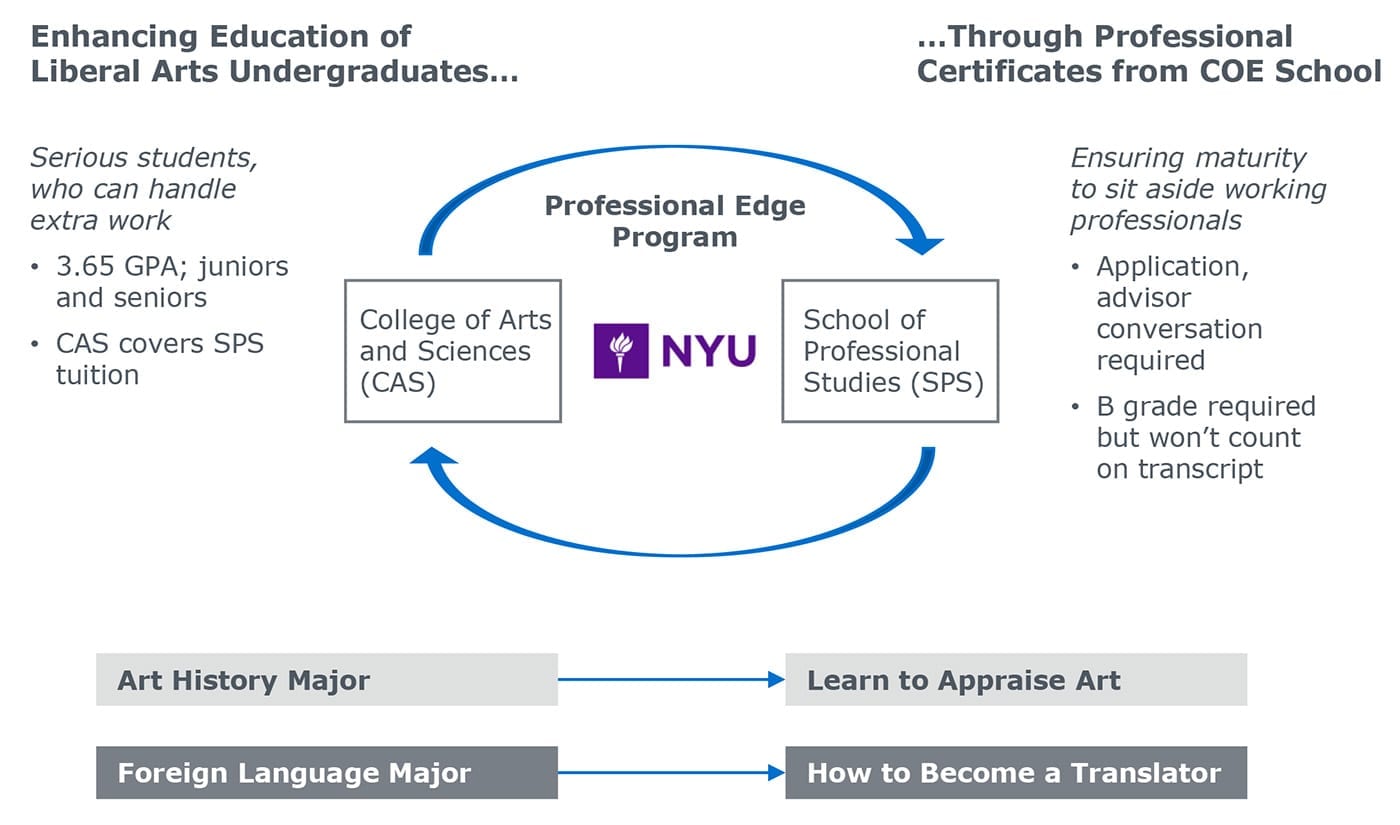 The Professional Edge program is open to arts and sciences students who are juniors or seniors and have a GPA of 3.65 or higher. These parameters and an application process help to ensure that the students are prepared for the extra work and are mature enough to take courses alongside working professionals. Even so, NYU is considering opening the program up to average academic performers who are in even greater need of a "professional edge" than their high-flying peers.
Learn more about how to integrate career preparation into the arts and sciences
Read our white paper "Reclaiming the Value of the Liberal Arts for the 21st Century," the first in a series of forthcoming publications on integrating academic and career development. Download the white paper