There are numerous variations on the traditional networking event—and there are countless ways for each type of event to go wrong. Whether the event is alumni-only or aimed at both current students and alumni, it's often a struggle to get people to come. And even when enough people do attend, there's no guarantee attendees will actually network with each other.
Learn other strategies for engaging today's alumni
An unsuccessful event doesn't help anybody (your team included), so it's important to control as many factors as you can. Learn how alumni relations staff at Washington University and DePaul University launched successful networking sessions by carefully curating their guest lists.
Customized recruitment leads to improved attendance
Too many institutions adopt a "post-and-pray" mentality—they organize a networking session, advertise the event on social media, and hope people show up. Unsurprisingly, this strategy often fails to garner the desired number of attendees.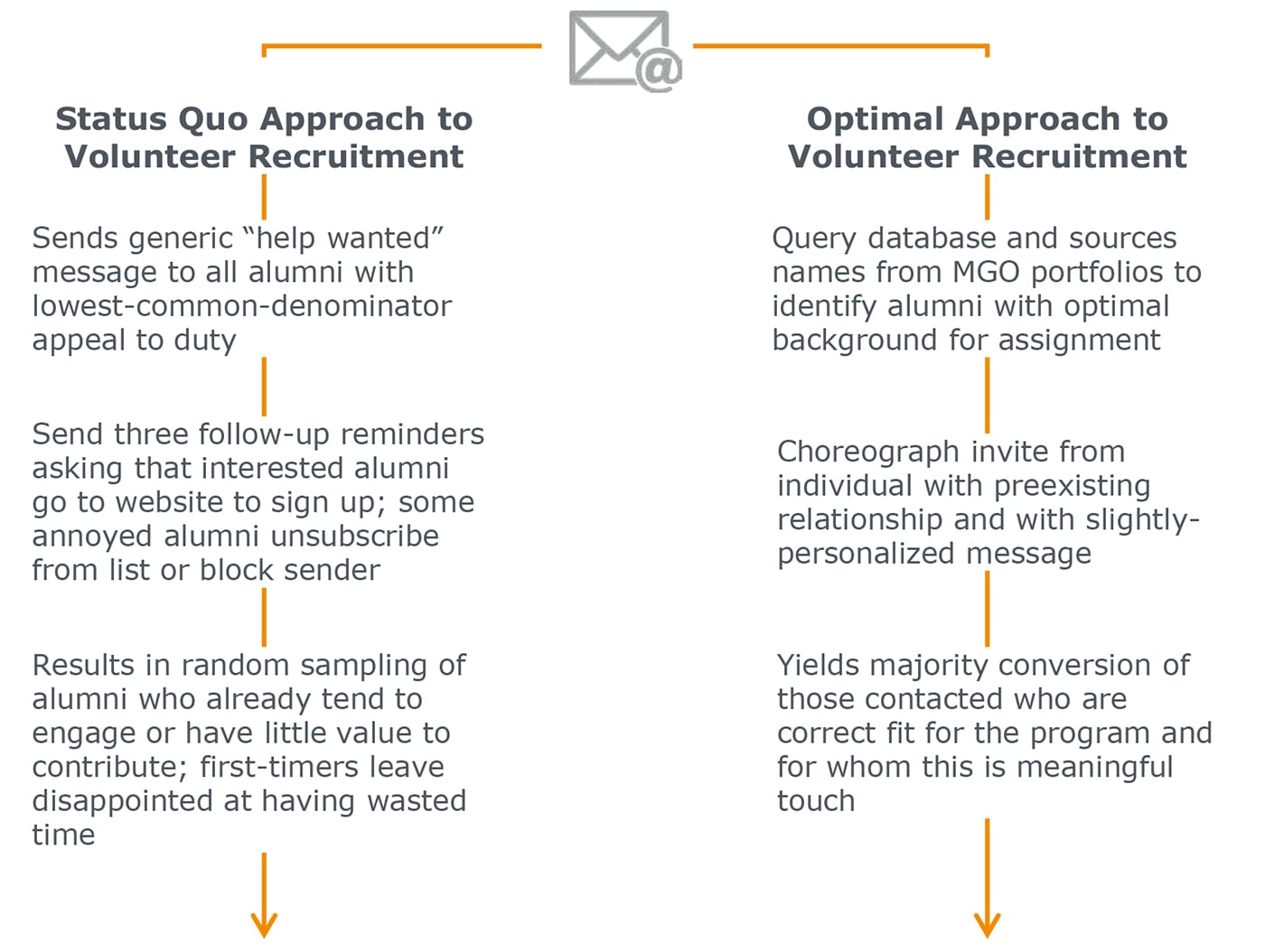 Download the full report Industry-Segmented Career Dialogues
Today's alumni are inundated with social media notifications and electronic messages from multiple channels. To break through the noise, use customized recruiting tactics. Mass "help wanted" messages tend to overwhelmingly emphasize generic messages like duty, loyalty, or alumni pride. These fail to spark interest beyond an already-engaged subset of alumni and certainly do not penetrate the tier of donors and high-level prospects who expect a more tailored approach.
The key to making more concerted solicitations often requires cutting down the number of invitees, which then allows for greater personalization. DePaul University and Washington University both handpick a select group of individuals who share similar backgrounds and interests to invite to networking sessions.
Make sure the people in the room fit together
Many institutions fall prey to the overly general approach of simply inviting constituents to assemble, with the hope that mutually-beneficial networking and mentorship will spontaneously occur—even though it rarely does. To ensure a successful event, everyone in the room should have a similar professional background and common interests.
At DePaul, alumni relations staff assemble dinners on campus hosted by three to four alumni (many of whom are major gift prospects) in a single industry or profession. They invite 15-25 students interested in that field. At Washington University, a regional development director plans a lunch hosted by a major donor; six to eight midcareer alumni who work in his or her industry or profession are invited to attend.
While carefully curating the list of attendees makes the events feel customized and intimate, the structure of the events remains consistent. Alumni relations staff can repeat the same event with a different guest list each time. So despite the improved outcomes, these variations of the networking event are no more taxing for staff to organize.
Successful events increase alumni giving
Gift officers at DePaul view these dinners as excellent cultivation or stewardship opportunities for prospective donors. Even though these networking sessions are most often one-time events, they have become a popular touchpoint before asking for a gift. By offering high-level networking and professional value to constituents that might not engage with typical alumni programming, advancement teams can increase the likelihood of receiving major gifts from top-of-the-pyramid donors.
Targeted networking events have also proven successful at positioning young alumni to make donations that will hopefully continue and increase over time. At the conclusion of each networking event, major donors talk to the gathered students and young alumni about the value of giving back to their university, emphasizing that institution leaders see them as the next generation of leaders and institutional champions.
Attendees also report satisfaction with the more tailored networking events. From both DePaul and Washington University, anecdotes abound regarding alumni who formed lasting connections at a networking session and students who found professional mentors. One English graduate student at DePaul even published her book with an alumna who works in the publishing industry, all because of the connection they formed at a Dinner on DePaul.
Need more information before you improve your networking events?
To learn more about the networking sessions at DePaul and Washington University, download the full report Industry-Segmented Career Dialogues: A Matchmaking Approach to Get the Right People Around the Table. You'll learn more about the encouraging results from these events and the best practices alumni staff implemented to make them so successful. In addition, you'll find a brainstorming and implementation guide to help you initiate these events with your own alumni segments. Download the report.